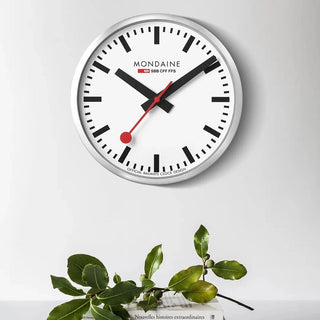 NEW
stop2go wifi wall clock
On your marks, get set, go! The NEW SBB station clock with WiFi connection and stop2go technology is here. The striking red second hand stops at 12 o'clock for 2 seconds, so that the minute hand can jump elegantly to the next minute. With the new Mondaine stop2go WiFi wall clock you can have a piece of Swiss design history on your desk or on the wall of your hanging in the living room.
Iconic industrial design with WiFi technology. The new stop2go wall clock offers ease of use as it is easy to set up with a one-off setting via WiFi (the older model has Bluetooth technology and is set via an app). With your smartphone you can synchronize your wall clock with the correct time zone.
Watch the step-by-step instructions in the video or download the pdf below.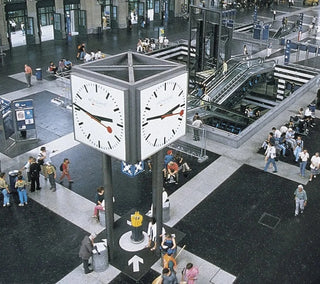 stop2go Innovation
In 1944, Swiss engineer Hans Hilfiker developed a clock that became known as the "Official Clock of the Swiss Federal Railways". In order to guarantee the absolute punctuality of the timetables of the extensive Swiss railway network, the station clocks are resynchronized every 60 seconds. To this end, the famous red second hand runs quickly and without hesitation for 58 seconds, pausing for another second at 12 o'clock to wait for the electrical impulse that will mark the next minute. This two second pause evens out the time lost or gained between the different clocks and synchronizes it to the start of the next minute.
The Mondaine stop2go WiFi watch pays homage to this iconic industrial design and continues the innovation of the original with new WiFi technology.