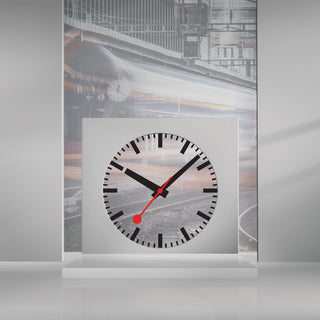 About Us
As iconic as you
The intersection between individuality and timelessness, processed into sustainable clocks and wall clocks. From Switzerland to the whole world.
Our pursuit lies in the production of unique and high-quality timepieces that are sustainably crafted with personality, to ensure a calibre that lasts for generations. Our distinctive Bauhaus style is easily recognisable and can be found in any Swiss train station as well as on the walls and wrists of icons worldwide, it might even be on you!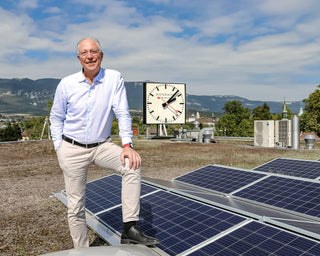 Over 70 years of Swiss tradition
Our story begins in 1951 when Erwin Bernheim founded MONDAINE in Solothurn, Switzerland. The Swiss heritage running through our veins translates to a traditional approach to watchmaking, with a strong focus on craftsmanship, design, and sustainability. We produce all our watches and clocks in our own factory in Biberist to ensure superior and iconic Swiss-made quality and remain a family-owned company to this day, with André and Ronnie Bernheim continuing their father's legacy as co-owners and members of the MWL Board. We wear our heritage with pride and have even incorporated Switzerland into our logo.
Besides the flag, you will notice the M of our logo was specially modified from the usual font to resemble two mountain peaks – literal pinnacles of Swiss symbolism.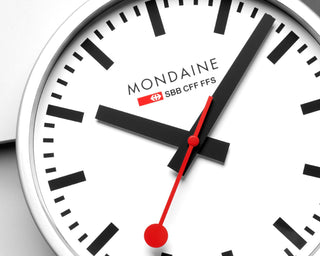 Iconic design
The origins of our iconic design date back to the blueprint created by Hans Hilfiker for the official Federal Swiss Railways clock in 1944. He subsequently updated his design to include a red second hand, inspired by the trowel of the dispatchers who handled trains at railway stations. Less than half a century later, Erwin Bernheim and then Mondaine group were inspired by Hilfiker's initial sketch and decided to adapt it into a wristwatch collection with official licensing from the Swiss Railways. They released the initial Classic collection in 1986, which, along with Hilfiker's distinctive red second-hand, set the chain of events into motion that led to MONDAINE becoming a beloved icon of Swiss watchmaking worldwide.
We've since adapted our watch cases and straps into multiple variations to develop sustainability and style goals, but the iconic watch face has never changed. To this day, our timeless timepieces are emblematic of Swiss simplicity and elegance.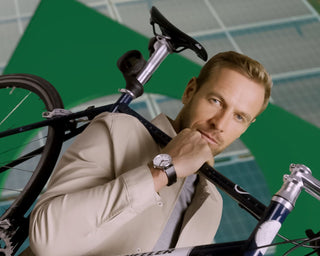 SUSTAINABILITY NEVER LOOKED SO GOOD
We've always been ahead of our time, and as a pioneer in moving the watch industry towards a greener future, our stance on sustainability is nothing short of iconic. We've received global recognition for our efforts, including the highly commended award for our Carbon Footprint initiative as well as the Best Sustainable Watch Collection for our essence collection in the 2021 Marie Claire Sustainability Awards.
We are also the first company in the world to offer watch recycling, and among the world's first comprehensively carbon-neutral watch brands and companies (scopes 1, 2, and 3 of the Greenhouse Gas Protocol) from 2020 onwards, following the 3R Rules: Reduce, Reuse, Recycle. Furthermore, our factory in Biberist produces all our watches with green energy, up to 80% of which is derived from our own photovoltaic solar power system, following the method of just-in-time production to ensure there is no unnecessary or unsustainable surplus. Finally, as part of our ongoing commitment to sustainability, all our watch collections are now available with sustainable vegan straps made of textiles from recycled plastic bottles, cork, cotton, and grape leather. One might even say that sustainability is part of the very fabric of our DNA.
AT MONDAINE WE CARE.
We care about satisfying our customers' needs and take initiative to create designs that can last to be appreciated by all generations.  We also care about the planet we live on and operate under guidelines that ensure our watches are produced in the most sustainable manner possible. Perhaps most importantly, we care about producing timeless, high-quality, and iconic watches that serve to empower the wearer. Wherever and whomever they are.