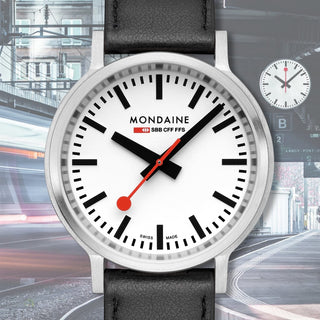 INTRODUCING THE NEW
STOP2GO COLLECTION
Precise, surprising, unique, and iconic.
The highly anticipated stop2go collection is back.
LEGENDARY SWISS-MADE MOVEMENT
The stop2go collection features the legendary Swiss-Made stop2go MONDAINE movement showcasing the 2-second time stop of the red second hand which completes every full rotation in 58 seconds and then waits for 2 seconds when it reaches 12 o'clock, allowing the minute hand to elegantly jump to the next minute.
The unique stop2go movement is a tribute, encapsulated in a robust, crown-less case design reminiscent of the Swiss Railways station clock. These clocks are famous for their red second hand that stops at the 12 o'clock position for 2 seconds at the start of each minute before continuing its rotation. This stop gave the central Master Clock the time to synchronize and align all railway clocks nationwide every minute. This commitment to precision has ensured the legendary Swiss trains' punctuality and accuracy, a legacy that still holds true to this day.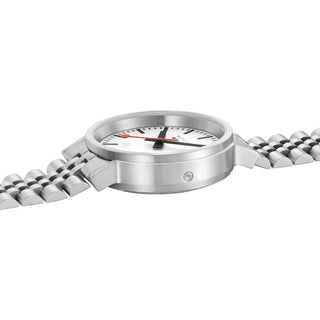 WATCH DETAILS THAT COUNT
The stop2go collection effortlessly blends style, functionality, and a touch of boldness. The watches feature the worldwide exclusive and unique stop2go movement. The glass on the dial is made from scratch resistant sapphire crystal with anti-reflective coating. While the white dial watches are equipped with BackLight technology, the black dial watches showcase SuperLuminova on top of the hands, both ensuring that time can be effortlessly read, regardless of the ambient light.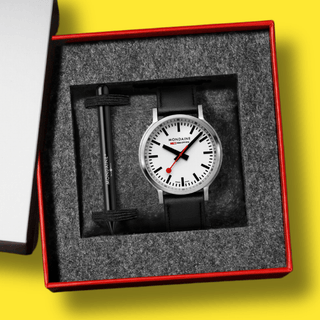 A FUSION OF PRECISION AND STYLE
All stop2go models come in a set with a 'time setting pen' to easily adjust time and align hands without the need of a crown. The collection has a practical interchangeable strap system making it very versatile and allowing you to create multiple unique looks without having to invest in several watches.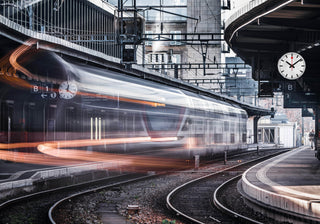 FROM THE STATION TO THE WRIST
The iconic design was invented back in 1944 by SBB (Swiss Federal Railways) employee and engineer Hans Hilfiker. Readability and legibility were key attributes. The large, clear indexes and bold hands made it easy to tell the time at a glance, which was essential for train passengers and station personnel. Later, in 1986, it made the leap from the station platform to the wrist: MONDAINE launched the first Official Swiss Railways Station wristwatch.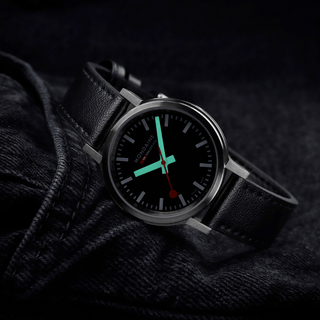 A TRIBUTE TO OUR HERITAGE
This extraordinary watch collection encapsulates the true essence of the iconic Swiss Railways Station clock and is something truly special for those treasuring exclusive state-of-the-art Swiss watchmaking.