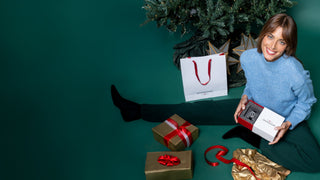 MAKE A WISH COME TRUE THIS HOLIDAY SEASON
MAKE A WISH COME TRUE THIS HOLIDAY SEASON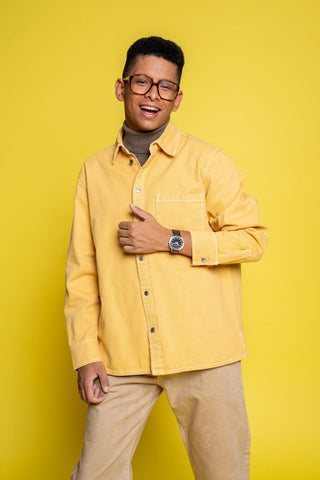 WHEN TIME STANDS STILL –
A MAGICAL MOMENT
Our stop2go watch has not only inherited the iconic timeless design of the Swiss Railways clock, but also features a watch movement, exclusive to MONDAINE, that resembles that of this legendary clock. Just like the clocks across Swiss Railways Stations, the distinctive red second hand of the wristwatch makes a full circle turn in 58 seconds and then waits for 2 seconds when it reaches 12 o'clock, allowing the minute hand to elegantly jump to the next minute. A magical moment that allows us all to stand still for a moment in a world that never seems to stop moving.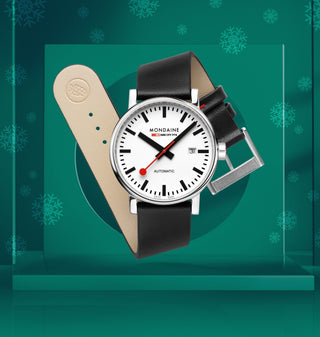 OUR WATCH STRAPS ARE VEGAN
We use vegan straps made from a wide range of materials, including textile from recycled plastic bottles rubber, as well as plant-based materials such as cork or grape leather. This year we have switched to vegan leather straps for all our watch collections. This vegetal leather alternative is made from grape marc consisting of the stems, seeds and skins – a true upcycling process!
TOP 25 GIFTS
In search of the perfect gifts for your loved ones, but not quite sure which design to go for? Take a look at our 25 top gift recommendations, from popular classics to latest designs and most unique products, this selection makes it easy to find your own top favourite gift for everyone.
DELIVERY WITHIN 2-3 BUSINESS DAYS
PRICE MATCH GUARANTEE BUY DIRECTLY FROM US
14 DAY RETURN POLICY EASY RETURNS